The new 3 stars Hotel Le Chantilly
To benefit from our best rates or know our availability, do not hesitate to book online.
Recent Posts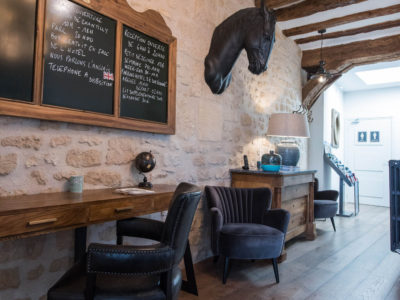 The new 3 stars – Hotel Le Chantilly
Inspired by the historical architecture of Chantilly the hotel is Located in the city centre and overlooks the square 'Place Omer Vallon'. It is just a 15 minute walk to Chantilly's famous chateau and racecourse.
The Hotel Le Chantilly occupies the recently renovated (2016) Ancient post station, which was built at the end of the 18th century.
The proprietors have endeavoured (every detail has been considered) to keep many of the old features of the building (stone walls, beams, original fireplace) yet also incorporate many modern needs of todays travellers to create an atmosphere and a feeling of intimacy and comfort.
All 27 rooms come on a Bed and Breakfast basis and have recently been updated to a high standard.
A personal welcome awaits visitors to Hotel Le Chantilly. The aim is to give guests a feeling of a homely and relaxed stay.
For a gateway or a business trip, the hotel « Le Chantilly » invites you to a unique experience.
Enjoy our quality furniture and our assistance that will allow you to have a delightful stay.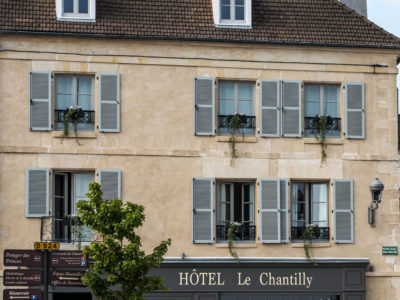 An exceptional location – CHANTILLY
Known as the City of Arts and History, Chantilly is famous for its Chateau and "The Great stables"
Chantilly known for its pedagogical and playful activities is a "Living museum of the horse" also "le Potager des Princes"
Collections of the Condé Museum of porcelain and the famous Chantilly lace can be viewed.
The city of Chantilly is also known for its famous horse racing track, where prestigious races are held, e.g. "Prix du Jockeys Club" and the "Prix de Diane" being two of the most noted races held. For horse lovers Chantilly has one of the largest center's of horse training.
A leisurely walk can be had around the chateau, the race track and the Great stables. There is also some 6000 hectares of forests to explore.
For lovers of golf and polo, Chantilly is within easy reach of 4 18-hole golf courses and a polo training center. Hotel Le Chantilly is only 20 minutes walk from the train station, 35 minutes drive from Charles de Gaulle Airport and the Parc des Expositions of Paris Nord Villepinte and only 1 hour from Paris.
The usual documentation for tourists is available to highlight other attractions in and around the Chantilly area.